Testimonials/links/friends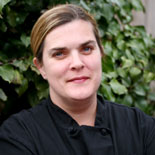 Ana Sortun, Cited as one of the country's "best creative fusion practitioners," Seattle-born Ana Sortun graduated from La Varenne Ecole de Cuisine de Paris before opening Moncef Medeb's Aigo Bistro in Concord, Massachusetts, in the early 1990s. Following stints at 8 Holyoke and Casablanca in Harvard Square, she opened Oleana in 2001, immediately drawing raves for dishes that The New York Times described as "rustic-traditional and deeply inventive." Awarded the "Best Chef: Northeast" honor by the James Beard Foundation in 2005, her cookbook, SPICE: Flavors of the Eastern Mediterranean, was published in 2006 and has become a best-seller. Her husband's farm, Siena Farms, provides Sortun's restaurant with all of its fresh produce and is named after their daughter. Her most recent undertaking has been Sofra Bakery & Café in Cambridge, which offers a unique style of foods and baked goods influenced mostly by the countries of Turkey, Lebanon, and Greece.
Ana has a custom handled MKS Boning knife and a 7" Chefs
Patrick Connolly, James Beard award winner and executive Chef at Bobo in Greenwich village, makes dreams come life in food. A visit to New York would not be complete without tasting some of this true magician's genius.
"A knife is very personal. Its weight and balance should never obstruct what your brain is trying to do to the thing on the board. For me, it's something that I have in my hand several hours a day, so it has to fit me perfectly. I also like the fact that this knife has some character."
Patrick has two MKS Fillet knives, one stock, and one full custom (CPM154).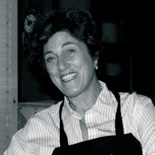 Louisa Kasdon is a freelance writer and editor specializing in food, lifestyle, travel and health for regional, national, and international publications including the Boston Globe, Boston Magazine, Town & Country, Continental Airlines, Swissair, Natural Health, MORE, Bride's, and the Boston Phoenix, the Boston Globe Magazine, Pure Canada, American Express' Escapes, Ladies' Home Journal, Siemens Journal, Fortune, Cooking Light, and is the 2008 winner of the M.F.K. Fisher prize for Excellence in Culinary Writing.
She also makes the best Brisket in the whole world.

Louisa has an MKS 10" Chefs with the 'Pedro' Handle and a Mezzaluna.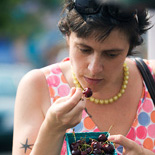 JJ Gonson is a mom, a personal chef, a locavore, and a teacher. She is help to anyone who wants to eat in a more healthy and educated way and do so without going crazy. Her passion has been inspiration to hundreds... maybe even thousands.
In 2008, JJ was honored with Boston Magazine's Best of Boston Best Personal Chef award.
"I guide people through the complicated process of reading between lines and beyond labels to feed themselves, and their families, in a healthful way, that satisfies their needs- body and soul".
JJ has an MKS 10" Chefs with the 'Pedro' Handle, a Fillet and a custom Petty.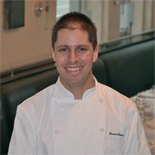 Jason Bond credits his grandmothers (both great cooks) with helping to define the way he looks at cooking and dining. He has studied charcuterie in Paris and traveled throughout France to expand his knowledge of cheese and regional cuisine. In Boston, he has served as executive chef at Beacon Hill Bistro and is currently ensconced in his own extremely well received venture in Cambridge, Bondir. Jason strives to balance tradition with modern techniques and locally grown foods with an emphasis on fish dishes... and really cool knives....
Jason has an MKS 5 1/2" Boning knife
Greg Case is a master baker, cook, teacher, and author currently residing in Duxbury, Ma. Greg has been responsible for pastry at Dean and Deluca in NYC (one snowy Christmas providing, by his own hand, the centerpiece of James Beard's Christmas dinner), run his own shop (G. Case Baking company) in Somerville, Ma. and written the must have book, 'One cake, One hundred deserts'.

"When I'm off to pursue Nirvana via my culinary adventures, I want the right tool for the job. Adam Simha has created tools [with] weight, size, balance, and rhythm...
(Mr. Cake says,"don't leave home without it!" ).
Greg has a 10" Chefs knife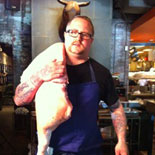 Jamie Bissonnette, Chef co-owner of Toro and Coppa in Boston's South End, has a bold personality. His food and style are similarly creative and colorful.
"My knives need to be an extension of my arm, and personality. Adam makes knives that have personality and function. They are head turners both in ability and look."
Jamie has an MKS 7" Chefs and custom handled Fillet /Slicer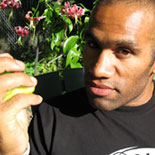 Douglas Williams was born and raised in Atlantic City, NJ. He was inspired at an early age by his father, an experienced professional chef, and the mediterranean flavors of his mother's adventurous home cooking. He is the Executive Chef and founder of Culinary Breakdown, where he parlays his 4 star industry experience, tips, tricks, and secrets into a variety of classes for cooks of all levels that are intended to inspire, motivate and build confidence in the kitchen and expand cooking horizons.
"Where was I before I owned an MKS knife?...No place I ever want to be again! These knives are tools for your life... They are paintbrushes for your mind and power for anyone's cooking soul."
Douglas uses and MKS Fillet knife and standard Paring